ryanarmstrong
Presents

Joined: Nov 11, 2007
Posts: 120
Post Subject: Do It Yourself PVC Reservoir for Water-Cooling Guide
Posted on: May 26, 2008
---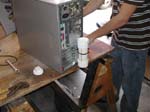 Introduction
Today, I am going to show you how to build your own easy-fill, external reservoir for under $15. All of the parts can be bought at any local hardware store, and the assembly time is under 20 minutes. Not bad huh?

The Tools and Materials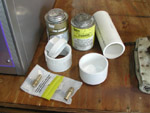 Here is a list of everything needed to complete this project. You can use different sizes if needed, but this is the exact sizes I used to build the reservoir.

*

6 to 12 inches of 2" diameter PVC pipe
*

(1) 2" PVC end cap
*

(1) 2" female screw PVC end cap
*

(1) 2" male screw plug
*

(2) 3/8" male brass barbs
*

PVC cleaner and glue
*

A drill and a 1/2" bit
*

Teflon tape
*

A wrench (adjustable will work fine)

Attaching the End Caps

The first step is to glue the end caps to you pipe. To do this, first clean the outside of the ends of the pipe with the PVC cleaner. Also, clean the insides of the end caps. Next, put a thin coat of PVC glue around the outside of the ends. The glue should cover about 1" from the end, and make sure the glue is all the way around the outside of the pipe. Place one cap on each end, and tap it on untill they are snug. Give the glue a few minutes to dry.




Installing the Barbs

After about 5 to 10 mins, you are ready to drill the holes for the barbs. Drill one hole in end cap (the one that doesn't open) as close to the bottom as possible. Drill a second hole farther up the pipe, but not too close to the top. When water is coming out of the top barb and emptying into the reservoir, water can splash out the top (if the cap is off) if the top barb is too high. Make sure the top barb is at least 2.5" from the top of the reservoir. To install the barbs, first wrap the threads with some Teflon tape. Then simply screw each one into the drilled holes. Use a wrench to make sure they are in all the way. Your reservoir is now complete and ready for installation!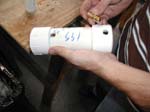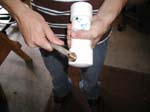 Attaching the Reservoir

With your new homemade reservoir complete, you can now attach it to your computer. The easiest way to do this, is to drill two holes in the back of the computer so that the brass barbs will fit though. When the reservoir is in place, attach it with a zip-tie if you like. You can see in the photo how I attached mine. With the reservoir attached, you can connect the tube to the barbs and fill your system.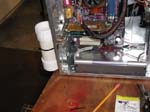 Conclusion

A homemade reservoir is a simple project for anyone who wants to save some money. This reservoir should cost you under $15, and works exactly like any high-end reservoir that may cost $50 or more. Although they are not needed, here are some Pro's and Con's for this project, just to go along with tradition:

Pros

*

Cost's under $15 in parts
Easy to assemble
Simplifies filling of water-cooling system
Looks professional
Can be added into existing setups
Construction time under 20 mins

Cons

*

Hmmmmm...sorry, can't think of any.

Final Thoughts
Please note, that FusionMods is not responsible for any problems you may encounter with this modification, we are only posting directions to our best ability.

Thank For Your In tress Sincerely Ryan Armstrong


---