Jetway NC91-330-LF Mini-ITX motherboard


Author: Gh0sTly -- Posted: 2009-01-06
---
If you love powerful things in small packages then this is the motherboard for you. Today, we will be looking at the Jetway NC91-330-LF, the incredible Mini-ITX board toting the Intel Atom N330 dual core processor.



The first thing I want to talk about is the NC91's powerhouse of a CPU. This board comes packing the Intel Atom N330 dual core hyperthreaded CPU, and operates at 1.6Ghz. This means it can process 4 instructions at one time, 2 instructions per core at once. This makes the CPU very efficient. This CPU also only uses 8 watts of power. This makes it a great power saver. The amazing bit is that the CPU only needs to be passively cooled, as it runs at anywhere from 20-30C at normal use.



The board is awesome. In the back we have your standard keyboard and mouse ports, a serial port, a parallel port, VGA port, 4 USB, audio, and a Gigabit network port. You also get 2 USB headers on the board for another 4 USB ports, 2 SATA ports, a IDE channel, Floppy channel, and a header for a second Serial port. There is also frontside audio headers and 3 three-pin fan headers, one is used for the northbridge cooler.



This board packs one of Intel's greatest chipsets, the 945GC + ICH7, along with the venerable Intel GMA 950 Graphics core. Its not the Intel i810 Graphics core of yesteryear. This board will surprise you when it comes time to do some video or some light gaming. The NC91-330 with the 945 GC is capable of displaying 1080p video with no hesitation, or frame reduction. When viewed on a HDTV using the VGA port, the picture was crystal clear, without any artifacts, and the color was bright and vibrant.

Today, our tests consisted of a 2D test, a 3D test, a CPU test, and then a Multitasking test. The test rig consisted of a 32gb SSD SATA hard drive, a 2gb stick of DDR2-667, and a 60w PSU. We installed Windows XP Pro SP3. We will be using Performance Mark to push this to its limits.



As you can see, the GMA 950 does not slack off whatsoever in 2D handling, and would very easily handle Windows Vista or even the soon coming Windows 7.



When it came to the complex test, it didn\'t fair so well, but in the simple and medium, it faired quite well, and it would be quite up to the challenge for Quake 3 or UT engine based games, and games with similar requirements.



Here we went about testing the CPU\'s performance capabilities, and faired very well.



These tests were all started and finished all at once, with a test duration of 60 seconds. It faired very well, and never missed a beat whatsoever.





The CPU and motherboard temps stay very low, even for a dual core CPU, but as stated before, its only using 4w per core(8w total) so it generates very little heat.

Overall, this is board incredibly impressive, and if you are looking to build a tiny PC that can do a little bit of everything, this is where to start! You not only save money by not buying standalone motherboard and processor, but you save money on your electric bill because the CPU only uses 8 watts, over your traditional CPU that uses anywhere from 45w to 130w!

There will be a follow-up review/howto on a Jetway barebones kit using this board, and here is a direct link to it: Jetway IPC Barebones review




Jetway

I would like to thank Jetway for allowing me to review this wonderful board, and I look forward to reviewing more of their products in the future.

If you have any questions, feel free to ask.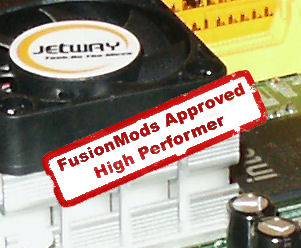 =======================================
Overall Rating: