HDT-S1283 CPU Cooler


Author: faceless105 -- Posted: 2008-02-25
---
We all know that cooling is a pretty big issue when it comes to computing. It can keep everything running smooth and it can even keep hardware lasting longer. One of the most critical cooling components is the CPU Cooler. This single piece of hardware can make or break any computer, and the better you're cooler runs, the better your computer will perform. With that being said, today we'll be reviewing the High Performance CPU-cooler HDT-S1283 by Xigmatek.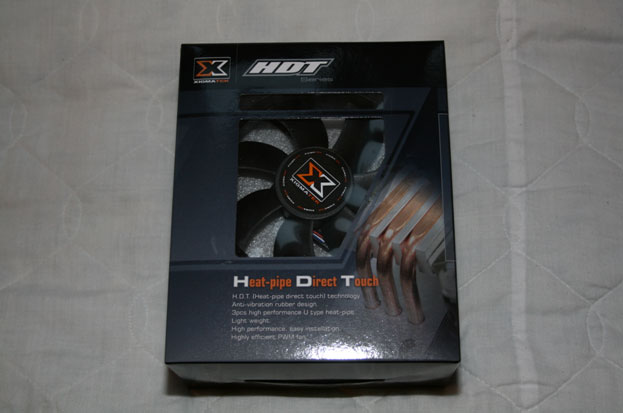 The HTD-S1283 CPU Cooler is designed to work with both AMD and Intel chips, fitting a good range of socket types. One unique note that gives this cooler a bit of an edge is that the heat pipes actually touch the CPU, giving a direct heat exchange that you won't find on many other CPU Coolers.

- All Intel Socket 775 CPU
- Core 2 Extreme / Quad / Duo
- Pentium Extreme Edition / D
- Celeron D
- All AMD Socket AM2 / 754 / 939 / 940 CPU
- Athlon 64 / FX / X2 / Opteron / Sempron

The heat sink is constructed of an Aluminum Alloy for the best cooling performance. With a 120mm PWM fan attached, it's able to push 56.3 CFM while keeping the noise down to 27.2 dBA.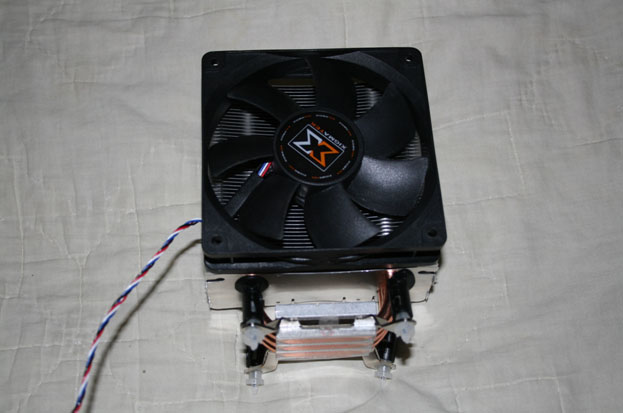 Out of the box, this is a pretty huge cooler. It's large enough that if you have anything smaller then a mid sized case, I'd recommend making a couple of measurements first.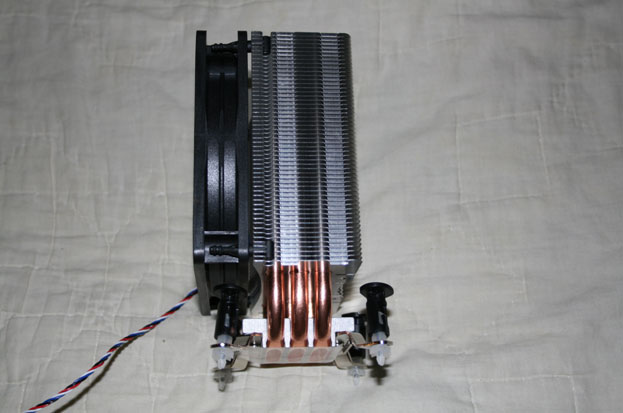 Getting the cooler ready is actually pretty easy. Depending on your socket type is only the difference of using one screw or two. For the fan, you take the rubber grips, and with the long pointed end, pull it through the screw mounts of the fan. Don't worry about the heat sink mounts being aligned, once it's attached the mounts are able to move easily enough into position. For attaching the mounts to the fan I'd recommend using a pencil to help. The way I had to do this was to pull the mount with my fingers while pushing the mount with the pencil so that it all the force was moving directly up to the other screw mole. This make sure that the mount was evenly secured in all directions. Once you're this far, I'd hold off on attaching the fan to the heat sink for a little bit.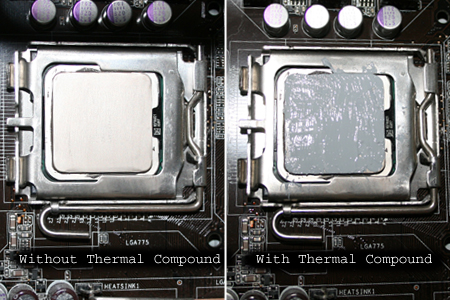 To install the heat sink, you'll want to apply a thin layer of thermal compound to your CPU (if you're upgrading heat sinks, be sure to remove all of the old thermal compound then re-apply new compound). For the installation I made the mistake of attaching the fan to the heat sink before trying to install it. The HDT-S1283 CPU Cooler has easy locking pegs to hold it in place, but even with those, it's pretty hard to reach underneath the fan to lock the pegs in place. So I'd recommend locking the CPU down first, then attaching the fan.

Since I've never had a stock cooler on this computer I'd like to run a comparison with the Freezer 7 Pro cooler. Until now, I thought that was a pretty good sized cpu cooler, but here's a few comparison shots.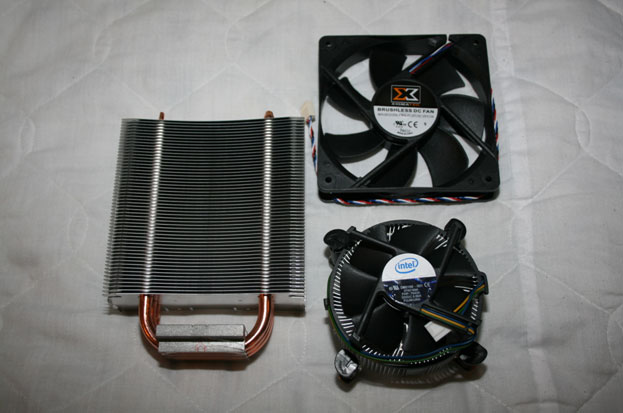 * Size Comparison to stock cooler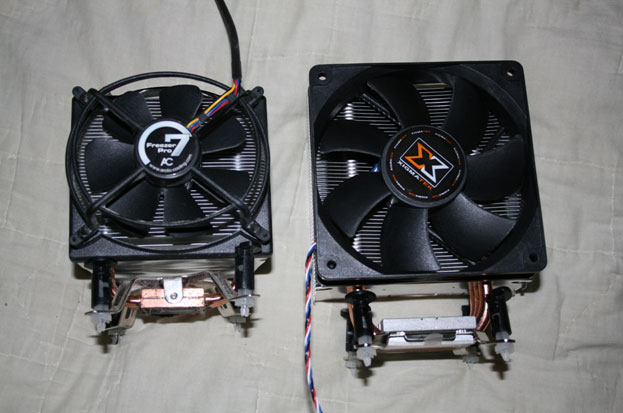 * Size comparison to Freezer 7 Pro

To test the CPU temperature I used SpeedFan. This is a program that installs on your computer and gives you a number of temperature monitoring based on your motherboard. Like all measuring methods the accuracy is arguable, and while it may not be 100% accurate it is consistent, so it will give us some good comparable results.

Now this motherboard has never had a stock cooler on it. So we'll be comparing it with the Freezer 7 Pro. When we run our specs, we let it run for at least 20 minutes to be sure that the temperature level was stable and wasn't still changing. We decided to measure on average usage and some loaded usage. The average usage just consisted of browsing the web and checking email, nothing demanding at all. For the high load usage we usually do some gaming, but since those results aren't something that can be 100% recreated, we decided to use [email protected] to really up the CPU load. While this isn't 100% identical either, it is much more consistent and will be much more comparable.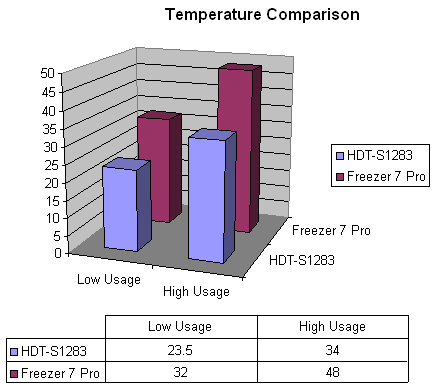 As you can see above, the HDT-S1283 CPU Cooler easily out performed the Freezer 7 Pro. The max temp from the HDT was just slightly above the min temp of the Freezer 7 Pro. As far as noise, the HDT is not even distinguishable from any other fans in my case.

I want to thanks Xigmatek for giving me the opportunity to review their HDT-S1283 CPU Cooler. I'd also like to recommend this to anyone out there who's either building a new computer or looking to improve their CPU temperatures. Now like I said if you have a very small case I'd do a couple quick measurements, but in a normal sized case it shouldn't have any problem fitting in, and it'll definitely be worth it.

I've covered a lot so if anyone has any questions or comments feel free to ask :)



=======================================

Overall Rating: