Deceptive HD Enclosure


Author: faceless105 -- Posted: 2007-09-07
---
Now I've done a few reviews on various hard drive enclosures and I'm a big fan of them. They give you great options for mobility as well as an easy means to protect your data. While that is all great today we'll be expanding even more on that list as we review the Hard Disk Shape HDD Enclosure provided by USB.BRANDO.COM.HK.




I'll start at the top and talk about the benefits you really gain from the mobility. I'm being honest when I say that I don't know anyone who doesn't own a flash drive. Given I work in the computer field, but even within my family, everyone has a flash drive of their own. Now these are pretty convenient but they are a bit limited by their size. The largest capacity for a flash drive at the moment is 16 GB and I challenge any of you to find me one for under $100. This is where the benefits of a hard drive enclosure come in. This is an enclosure made for a 2.5" hard drive so it's still very small. It won't fit on your keychain but it will still easily slip into your pocket. For under $100 you could pick up a 100 GB hard drive and this enclosure. For the money it is well worth it. I'm sure a lot of you are wondering what you'd need that kind of space for but believe me; if it's available you'll find uses for it. Personally I keep my music collection on a portable drive as on any given day I might bounce between work, class, and a couple computers at home.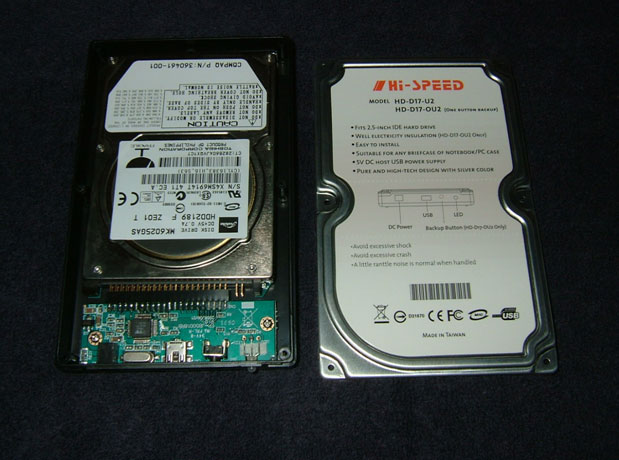 Now the fact that you have such higher capacities for storage also makes this an excellent option for backing information up. I keep all of my class assignments on it which does take up a fail amount of space. Anything that's important that you can't afford to lose on your desktop can easily be placed on here. This drive also comes with a special one-touch-backup feature that I'll discuss further in this review.



Now if you're still leaning towards your flash drive here's my closing argument. If the price per space isn't enough to sway you then look at the performance. Above is a benchmark of a 1 GB flash drive. This one is very average. I've benched 5 other flash drives of various sizes and they all scored about the same. Now if you look you can also see the HD enclosure and it's about 50% faster.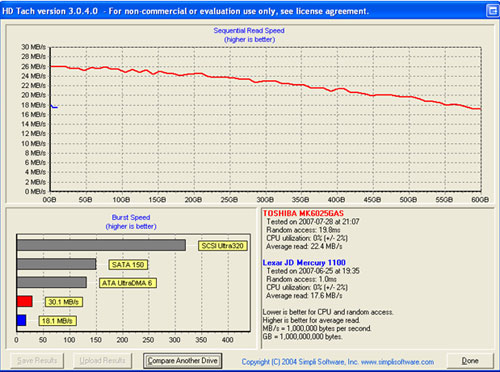 The enclosure is currently housing a Toshiba 2.5" Hard drive at 60 GB. In the benchmark you can see that it's just about 50% faster.

Now as I mentioned, this enclosure does come with a one touch backup button which is incredibly convenient. I've written a large number of articles on disaster recovery and prevention and these are one of the easiest ways to backup large amounts of information that you need. The benefit in these over a number of your larger devices is that this is made for mobility. If your building gets hit by an electrical storm or fire then it doesn't matter how much you would backup if you can't access it any longer. But this simple little enclosure will give you a the upper hand on being able to secure your data in a separate location.




Now even with all these benefits I have the say that probably my favorite feature on this enclosure is the fact that it looks like a 3.5" hard drive. I think the fact that I work with computers all day makes this funnier to me then a lot of other people out there but I really like it. In comparison it's a little smaller then your typical hard drive, but it's definitely close enough that you'd have to take a closer look.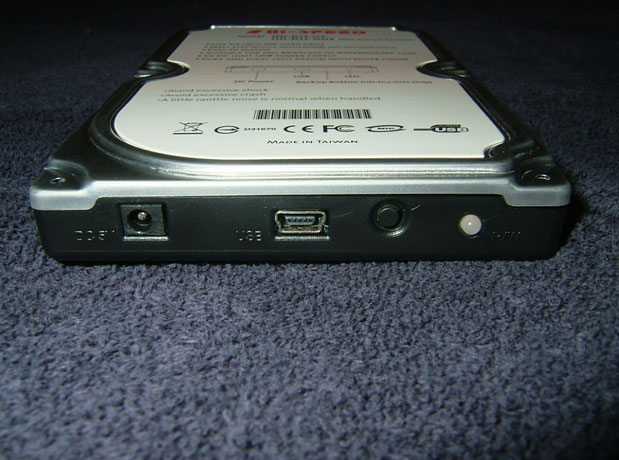 Installation is incredibly easy with this device. To use it as a standard external drive all you need to do is plug it in. To use the one touch backup all you need to do is install the software. Everything you need comes with this enclosure, with the exception of the hard drive :)

I'd like to give thanks to USB.BRANDO.COM.HK for giving me the opportunity to review some of their products. I strongly recommend this to anyone with slightly larger storage demands, as it is well worth the money. The speed and storage should be more then enough to convince you that you get more for your money when compared to flash drives.

If anyone has any questions or comments I'd love to hear them :)