Accelero S1 VGA Cooler - Arctic Cooling


Author: faceless105 -- Posted: 2007-05-28
---
One very cool product that I've been given the opportunity to review can make some serious differences when it comes to gaming. VGA coolers are becoming more and more popular as graphics card up their abilities and games keep demanding more power.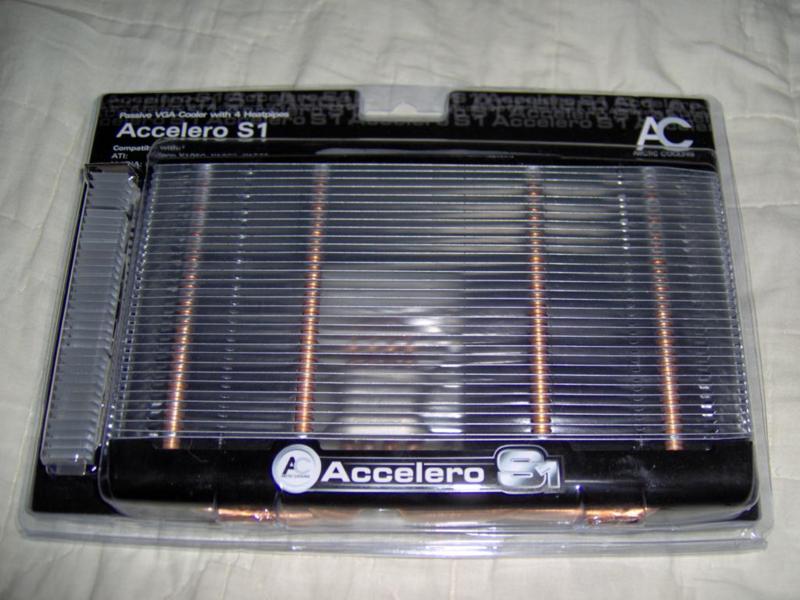 Arctic Cooling has released their Accelero S1 VGA cooler. This is a massive passive cooler. It is composed of four copper heat pipes stemming from a copper core and an array of metal fins. Now being a passive cooler, these are only effective when you have proper case cooling so if you do go this route, make sure that your case is prepared for it.

Out of the box, this comes fully loaded. The massive VGA cooler, eight ram sinks, an additional ram sink for specific graphic card models, and even a convenient card slot cover to allow for improved airflow.




I'm going to combine my first hand experience with this one and walk you through the install to lets you guys get a good feel for this cooler. Installation is pretty straight forward. My graphics card is a nVdia 7800 model. It has a passive heat sink on it already but like anyone else I wanted something a little bit better for it.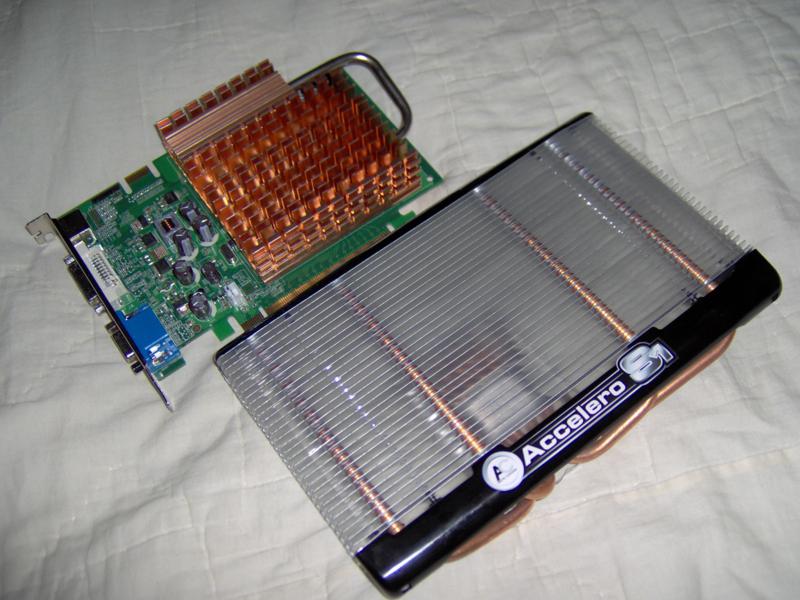 In the above pictures you can see the comparisons in size; the Accelero S1 really is massive like I've been saying :)

The first step is to remove the current VGA cooler. Once this is done you can attach the RAM Sinks. These are held on but a double sided thermal tape.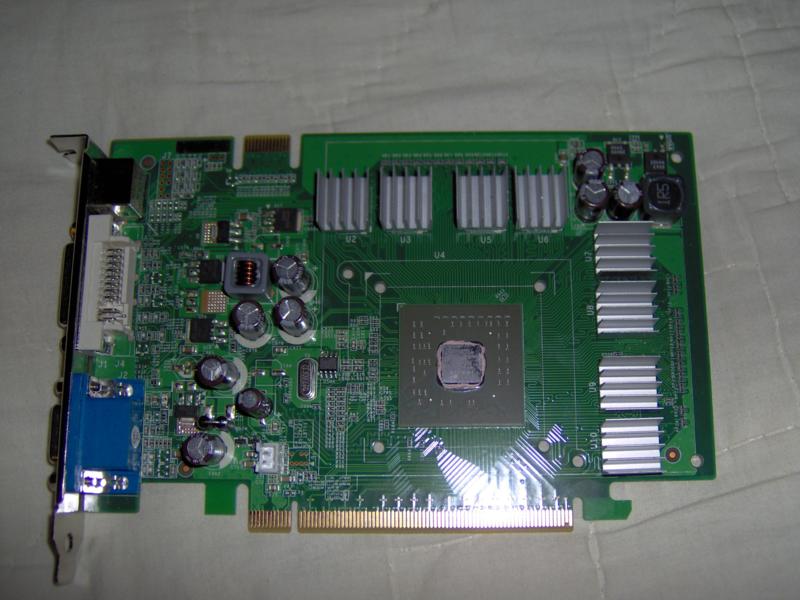 Once you've completed this, you're ready to mount the cooler. This comes with convenient clips that allow you to snap it to the edge of the card as well to distribute the weight to the GPU isn't supporting the entire load.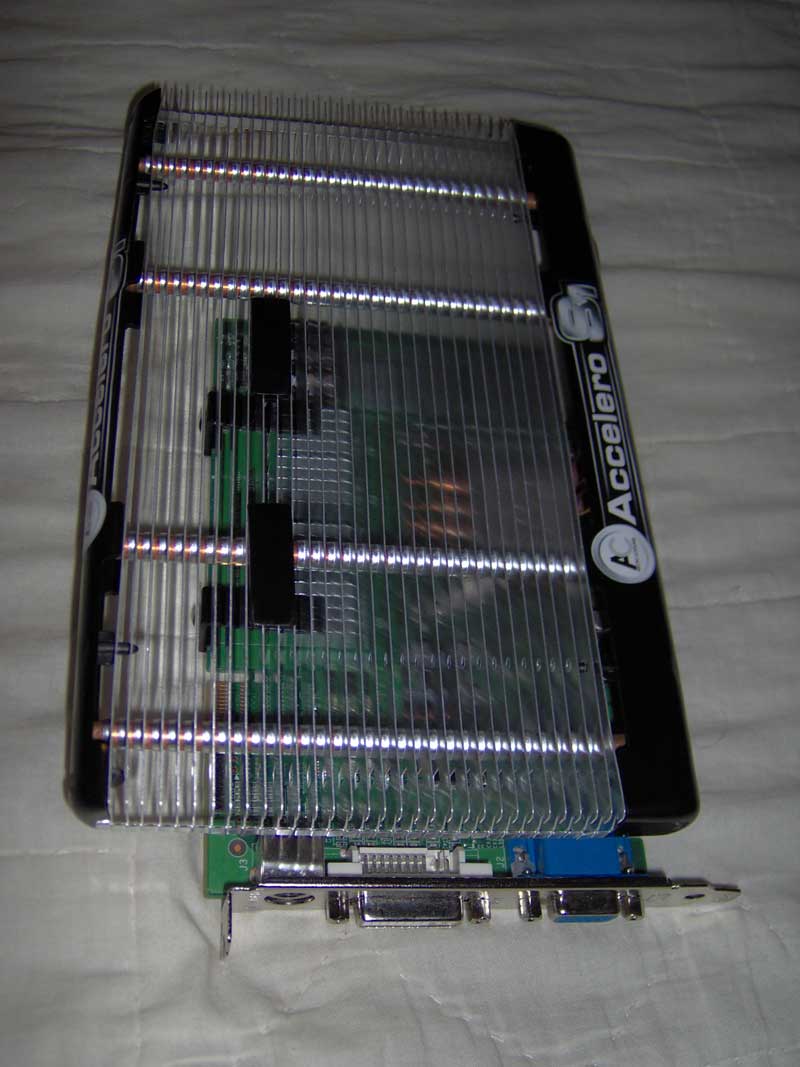 Once this is done you're ready to pop it into your computer and feel the differences. I ran a few temp readings while doing some daily routine work on my computer. Sadly I don't have too many games loaded on yet but I did get a nice reading on atleast one :)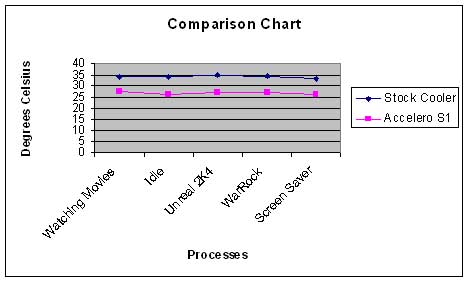 If you look at the graph, you can see that the performance is consistently 6~7 degrees cooler. This may not sound like a whole lot but it really is. When it comes to temperatures a few degrees can make all the difference, better performance, longer life, and ever a chance to over clock.

I want to give you a decent description of my rig to help explain the cooling. I have a full size server case. This in itself usually helps cooling in all aspects, with having so much space for everything you don't need to worry about a restricted airflow. As for fans, I have one 120mm and one 80mm fan for intake and two 80mm fans for exhaust, as well as a dual 80mm PSU for exhaust. It's a pretty normal setup actually. The intake fans are on the front of the case and the side panel. The exhaust fans are all on the back panel. The temps were taken with the side panels on the case, via a digital temp readout from a temperature probe.

Sorry guys I avoided the pic of it in my machine just because it's such a mess of wires right now, but thought the tangled mess I promise you, it does look awesome, lol.

I'd like to thank Arctic Cooling for giving me the opportunity to review their hardware; it really has been a pleasure. I definitely recommend that all of you check out the Accelero S1 or even their other VGA coolers if passive cooling isn't the route you're looking at taking.

As always I'm up for a good conversation so I'd love to answer any questions you guys can throw me, especially because when using passive cooling, there are a few considerations you should take before hand.