PWM Fan Series - Arctic Cooling


Author: faceless105 -- Posted: 2007-02-08
---
Recently I was given the opportunity to review some more products by Arctic Cooling. Just recently I reviewed their Freezer 7 Pro and I was incredibly impressed by it, so I know this one won't disappoint either.

Arctic Cooling has really shown off an ability to give superior cooling solutions through their time. One of their latest products, the PWM Fan series, gives you options that you never had before.




So lets start at the very beginning. With any computer the most important factor to keeping it running, is temperature control; now as many of us know, this comes at a price... No one wants to hear your loud fans running. This is where you get to see some really cool innovations by Arctic Cooling. The first feature they offer is a special build of fan that reduces the vibrations without cutting the airflow. This is done by attaching the fan grill and motor to the fan body with a rubber connector, thus reducing the vibrations.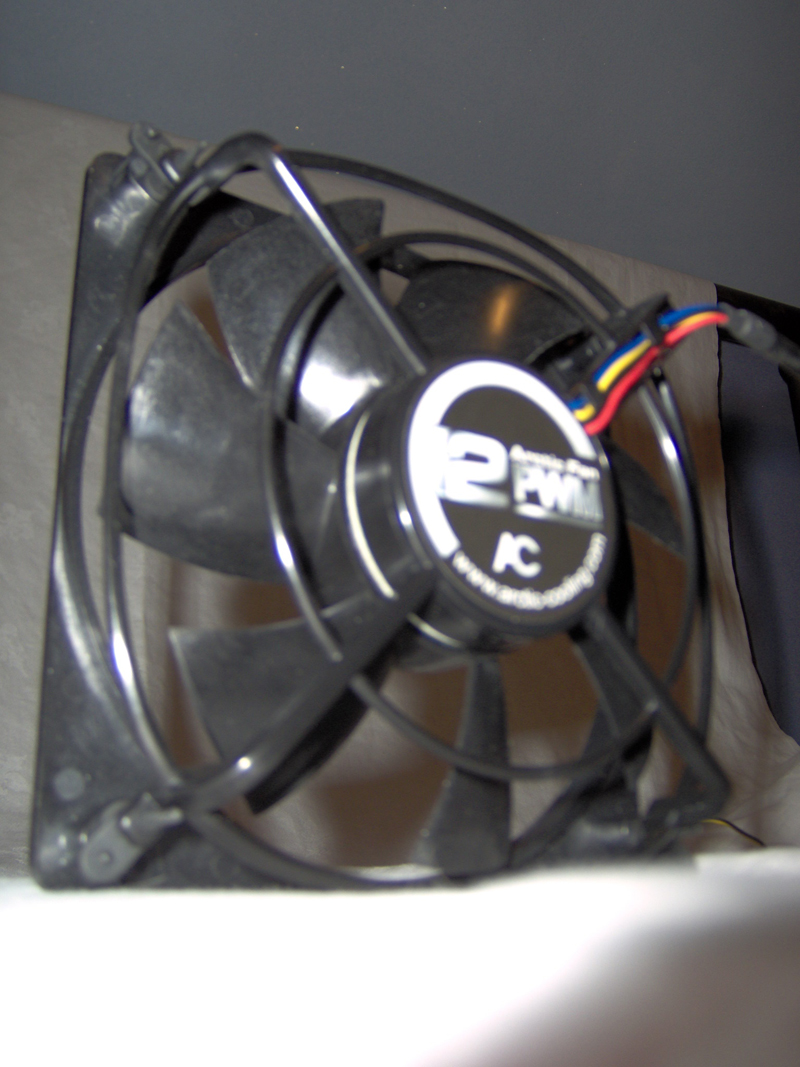 Now their next feature is pretty cool. This is what makes the PWM fan above the rest is their power management. This allows your fans to automatically adjust their speeds based on the CPU temperature. Basically, when your computer generates more heat, your fans work harder. This is a really cool feature, especially to those who leave their computer on at light like I do.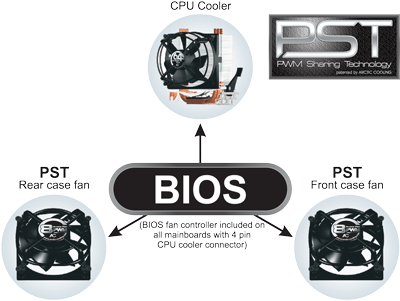 The PWM feature is easily taken advantage of as well. Through this you're able to connect up to 5 fans. The easiest way to achieve this is by connecting your first fan to the CPU fan connection. Then they allow you to daisy chain them.



- BTW, I promise you that this is incredibly simple when you have it all spread out in front of you.

Now as always, here are some shots of these guys in action. This is a new barebones kit that I got for my parents, and as such I don't have any baseline temps for comparison. Arctic Cooling has really got it right on the looks. Nice unique grills, and even sleeved wires, but they also know where it really counts. That's why they deliver such improved speeds while keeping noise reduction in mind, which isn't an easy task.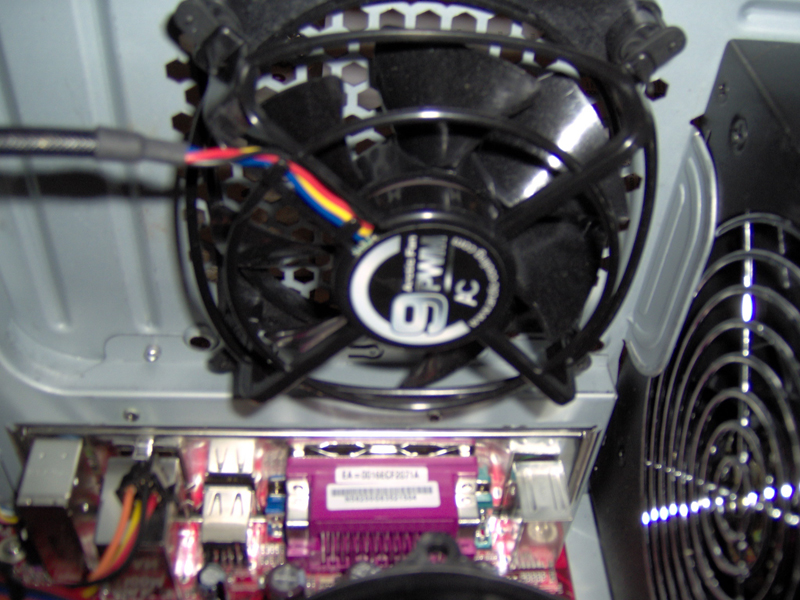 - Here is the 92mm, it's venting out hot air from my CPU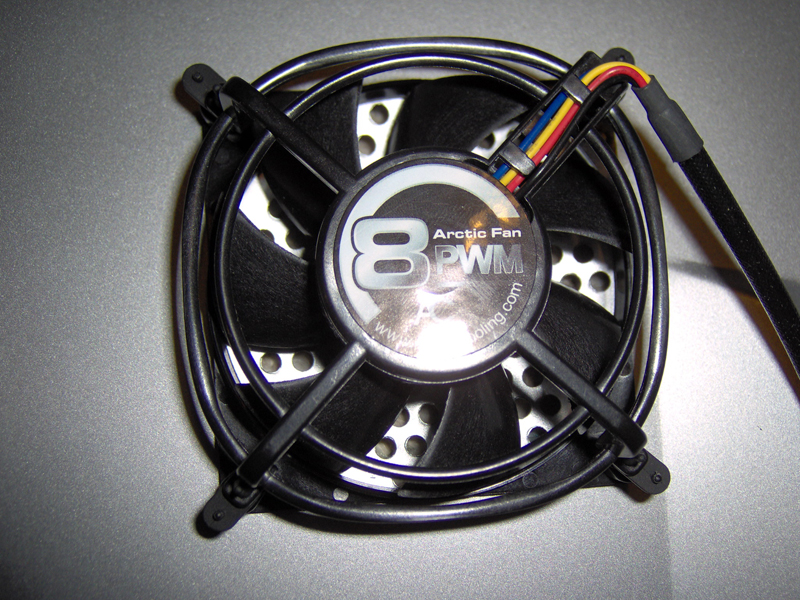 - It's hard to tell, but this is mounted to the door of my case.

In this shot you can see I have the 90mm as an exhaust fan. The 80mm is working as intake on the door. And finally the 120mm is tucked away as intake in the front of the case. Sadly after many attempts I wouldn't get a clear shot of the 120mm, but just looking at the 90mm gives you a good feel for them. Like I said wiring was a sinch, and now this computer runs excellent, while keeping cool temperatures.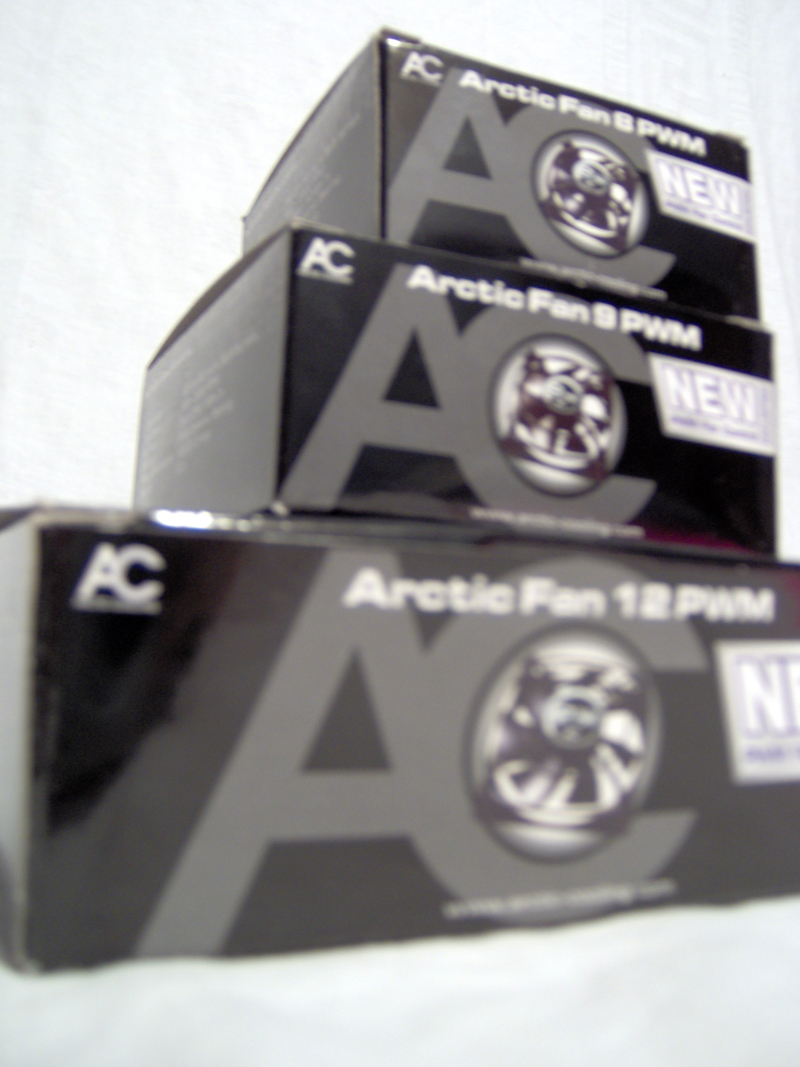 I really do recommend these to anyone because they are an all around great fan. These have been installed in a kitchen computer so they experience all kinds of heat. Their performance thus far has been pretty great. The computer keeps an internal temp of approximately 25 degrees Celsius. One of the really nice factors about it, is at night while it's running, it doesn't generate hardly any noise, because there is far less heat being produced.

They've offered something new and very impressive with these fans, and it's really let them hit that performance mark. So here's the link to the 120mm PWM Fan, the rest are close behind it. Seriously guys, this is one cool product worth checking out. I'd also like to thank Arctic Cooling for the chance to show off some of their new products.

As always I really do enjoy fielding any questions you can hit me with and engaging in general discussion. So if anyone has anything, I'd love to hear it.