D-Link DGL-4500


Author: Gh0sTly -- Posted: 2009-03-24
---
Today we are happy to look at the D-Link DGL-4500 Wireless-N/Gigabit Ethernet router with Gamefuel. If you are looking for a new router, this is it, because this is a smoking-hot router.



D-Link has done their homework with the DGL-4500. This router packs so much into such a little device. Looking at the front of it, you notice the power indicator smack in the center of the front edge, and it glows a cool blue. The unit is built out of a sturdy plastic, and has a very nice shiny finish to the black with a satin black midsection going around the sides.



Next up is the display, you get a great OLED display with the ability to give you any information that you could want about your network with the push of a button. This display is wonderful, and is a blue on black background display for ease of reading. It can even give you a realtime readout of your incoming and outgoing data usage. D-Link will be releasing a SDK in the near future so you can customize the display to show whatever you want.



In the back, you have 4 Gigabit Ethernet ports, 3 Wireless antenna jacks for MIMO use, a Gigabit WAN Ethernet port for the ones fortunate enough to need it, and a USB port. The USB port is great because it can be used to make a External USB hard drive a Network Attached Storage device, or you can use a USB printer, and turn it into a Network printer.

Inside of the DGL-4500, you get a Wireless 802.11A/B/G/N router that has dual band N(2.4Ghz and 5Ghz.) This gives you the ability to run 300mbps wireless-N to any device in your home that supports wireless-N. This is a great speed increase over wireless-G as it was capped at 54mbps, or if you were lucky to have a 'speedboosted' wireless-G device, 108mbps. With wireless-N, you not only get a faster wireless connection, you get more wireless coverage as well. You should see a 30% increase in range over wireless-G.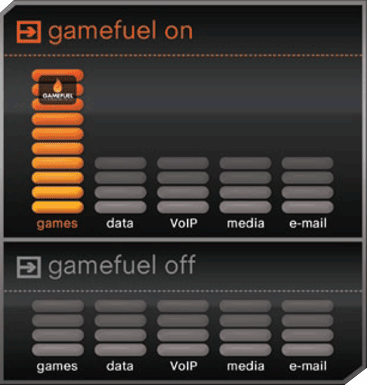 Another interesting feature of this router is its QoS programing, called GameFuel. This QoS is designed to see gaming network traffic and put it at top priority. It can do this for both internal network traffic, as well as network traffic going to the internet. It works incredibly well, and I actualy saw a ping rate of 105-115 in Team Fortress 2 with my old WRT-54G running DD-WRT. With the DGL-4500, I saw a ping rate of 80-95. A decent drop. As any gamer knows, the lower the ping, the better.

All in all, this has to be one of the most advanced gaming routers I've ever encountered. If I knew someone was in the market for a top notch router, I would highly recommend the DGL-4500 from D-Link. Its feature packed, its fast, and the firmware is great, as well as the advanced GameFuel QoS programing. Its well worth the price.


D-Link

I would like to thank D-Link for letting me review this wonderful product, and I look forward to reviewing more from them in the future.



If anyone has any questions, please feel free to ask.



=======================================

Overall Rating: