Jetway MA3-79GDG Combo motherboard


Author: Gh0sTly -- Posted: 2009-03-20
---
Jetway has pushed into the AM3 CPU arena with their new MA3-79GDG Combo motherboard. Jetway really pulled all the stops in the features department when it comes to this board. So lets dive into this head first and see what this board is all about.



First thing you notice out of the box is the heatpipe and great heatsinks for the North and Southbridge chips, as well as for the voltage regulators. You will also notice that the board supports DDR2(upto 1066Mhz) and DDR3(upto 1333Mhz) and can handle a max of 4GB for either RAM style. You also get SATA a-plenty with 6 onboard SATA connectors, and a eSata port on the back I/O. You get two 16x PCIe slots that are CrossFireX ready, one PCIe 1x slot, and one 32-bit PCI slot. You also get 2 connectors that seem to be going the way of the 5.25" floppy drive, the IDE connector and the Floppy drive connector. A little unusual now, but still very welcome in my book. There are also 6 USB headers, for a total of 6 USB ports.



Looking at the back I/O connector, you see the legacy PS/2 Mouse and Keyboard ports, as well as coax and optical SP/DIF digital audio out. You get all the video outputs you could want with VGA, DVI and HDMI. 4 USB ports, as well as the eSata port I mentioned earlier, a 10/100/1000mbps network adapter, and a Realtek ALC883 HD audio codec output that supports 8 channels.



The MA3-79GDG Combo has a unique feature that you don't see often. A onboard video card with dedicated memory. This board has a ATI Radeon HD 3300 GPU that has 128MB of dedicated DDR3 memory on the motherboard and fully supports DirectX 10. This saves your system ram from being shared with the onboard GPU, and speeds things up quite abit. Not only that, the GPU can be overclocked, and be used in Hybrid CrossFireX for a 1.75x graphics power increase if used with a add-in VGA card that supports CrossFireX.

One note about the Driver CD. It seems that a lot of the ATI/AMD drivers arent digitaly signed with Mircrosoft, and it asks multiple times, "Do you want to install this unsigned driver After the reboot, it causes Vista x64's explorer to crash every time you open a window, and also causes the desktop manager to crash. I think this could have been prevented, but its more ATI/AMD's fault than Jetway's. Regardless, if you download the ATI motherboard Catilyst drivers from Jetway's website and the HD 3300 drivers from ATI's website, it fixes the issue.

Today our test machine setup will consist of a AMD Athlon64 X2 5000 at 2.8Ghz, with 2gb of DDR2-800Mhz, and a 500gb Western Digital hard drive. We will be using Windows Vista Ultimate 64-bit, Performance Mark 64-bit, 3DMark 06, and the Windows Vista Performance rating system.

Our first test will be the Vista Performance rating.



As you can see, the board tests fairly well for Vista use, and will run Aero very well.

Our next test will consist of the test results from 3DMark 06. These tests are very DirectX10 intensive, and we will see how well the ATI Radeon HD 3300 GPU performs under some stress.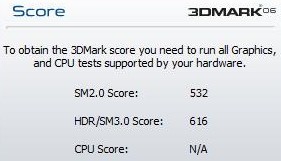 Here, you can clearly see that the graphics card is lacking in memory, but still holds up well enough.

Our final test will be a run of 2D tests.



The 2D tests are great, and this might be a wonderful setup for someone getting into Photoshop CS4.

The HD audio on this board actualy sounds good. It has no hiss, no feedback, and the quality is good. About what you should expect from a realtek HD audio driver.

In all, the MA3-97GDG Combo motherboard performs well, look great, and for the money, would be a wonderful HTPC board or even a semi casual/semi high end gaming PC board. We ran Team Fortress 2 on it and it never dropped below 40FPS. Not bad for a GPU with only 128mb dedicated to it. We also tested it with quite a few different 1080p format videos and it never skipped a beat.

As always, I would like to thank Jetway for letting me review this great motherboard, and I look forward to reviewing more from them in the future.




Jetway

If anyone has any questions, please feel free to ask.