Sunbeamtech HDD Docking Station


Author: Gh0sTly -- Posted: 2009-01-22
---
Today, we have the HDD Docking Station from Sunbeamtech. When looking for something like this, there is always a few things I would look for, and this nails them all. We will be discussing these subjects, as well as performance, and I have to say, it does perform well.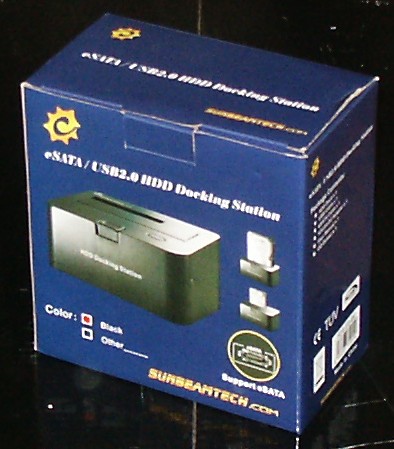 First thing is build quality. This thing is tough, heavy, and built very well, and they really thought the design through well. The dock has a nice heavy weight to it(17.5 oz.) and this is very good, seeing as how the average hard drive is about 25 oz. and if the dock didn\\\'t have the weight and heft this has, it would be very easy to knock over, crashing the heads in the hard drive when it hits the floor. This is helped even further by having a nice wide base. You get a nice blue power indicator light that is bright, and a contrasting red activity indicator. These are both in the top of the dock, in a oval ring.





You will also find in the box a nice eSata cable that is more than long enough for its job, as well as a USB cable, and the Power adapter. The eSata cable is well designed, and does not feel cheap at all.



The HDD docking station has a wonderful eject system that is very heavy and the eject bars in the dock bay are made of a pressed metal, not plastic, so they wont break on you. The bay flap is designed to accomidate for a 2.5" SATA drive, or a 3.5" SATA drive, and you can rest assured that it doesnt flop around inside the bay.



For our testing, we used a Core2 Quad PC with 4gb of ram, and a P45 chipset that had onboard eSATA for our test. The drive we used in the HDD Docking Station is a Western Digital WD360ADFD Raptor drive. We used Performance Mark for the transfer benchmarks, and we also did a real world large file transfer. We tested the eSATA first.

eSATA test results


eSATA real-world large file transfer
Filesize: 3.30gb
Time to complete transfer: 1 minute 40 seconds

And here are the USB test results.

USB test results


USB real-world large file transfer
Filesize: 3.30gb
Time to complete transfer: 2 minutes 15 seconds

As you can see, eSATA is far faster in transfer speed. This is due to the faster transfer rates that SATA/eSATA is capable of. The USB speeds are still good, and I would use this daily for mass hard drive backups if I needed to do so.

In the end, this hard drive dock is:
1: Heavy, and thats good.
2: Very sturdy and designed well.
3: Has excellent transfer performance.

These are the top three things that I would look for in a product like this, and it does it all very well. At its price point of $37, its not too expensive either, and will get the job done without question. I would definitely recommend this to someone if they were looking for a hard drive dock.





I would like to take this chance to thank Sunbeamtech for letting me review this wonderful product, and I look forward to reviewing more from Sunbeamtech in the future.

If anyone has any questions, please feel free to ask.