Sleet VGA Cooler


Author: faceless105 -- Posted: 2008-01-30
---
Following the Propeller Graphics Card Cooler review, we're also reviewing the Sleet VGA Cooler by Vizo. This is a great option to get some extra performance out your graphics card. This is especially ideal for anyone with passive cooling or sub-par cooling.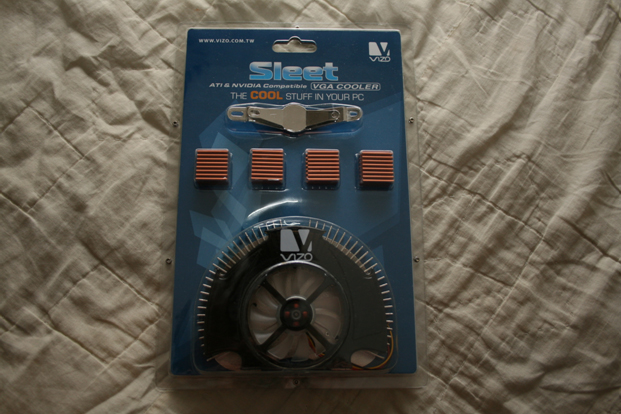 Right out of the box, the Sleet VGA Cooler comes with a fair amount of installation, which is expected. It's designed to fit a wide number of graphics cards (listed below), and comes with some pretty easy to follow installation instructions.

Before I get into the installation I'll give you some of the specs...

Compatability...
NVIDIA
Geforce 3 Ti 200/500
Geforce 4MX 420/440/460
Geforce 4MX 440 SE/440 8X
Geforce 4 Ti 4200/4200 8X
Geforce 4 Ti 4400/4600/4800
Geforce FX 5200/5500/5600/5700 LE
Geforce FX 5600 ULTRA/5700/5700 ULTRA
Geforce FX 5800 Series
Geforce FX 5900/5900 XT
Geforce 6200/6600/6600 GT
Geforce 6800/6800 GT
Geforce 7600 GT/7600GS
Geforce 7600 GS AGP


ATI
RADEON 9000/9000 PRO
RADEON 9200/9200 PRO
RADEON 9500/9550
RADEON 9600/9600SE/9600 PRO/9600XT
RADEON 9700/9700 PRO/9800 PRO/9800XT
RADEON X300/550/600/X700/X800/X850
RADEON X1300/X1600 Series

Cooler Dimensions : 120.0 x 92.0 x 32.0 mm
Fan Dimensions : 60 x 60 x 12 mm
Heatsink Material : Pure Aluminum AL1070
Reted Voltage : DC 12.0 V
Rated Current : 0.15 A
Power Consumption : 1.8 W
Fan Speed : 2500 R.P.M
Bearing Type : Ball Bearing
LED : Blue Light
Noise : 24.5 dBA
Weight : 180 g

We'll be testing with a 7600 GS PCIe Graphics card running dual monitors at 1280 resolution. We've recently purchased an infrared surface temperature gun to further our testing and we'll be using that to show our findings.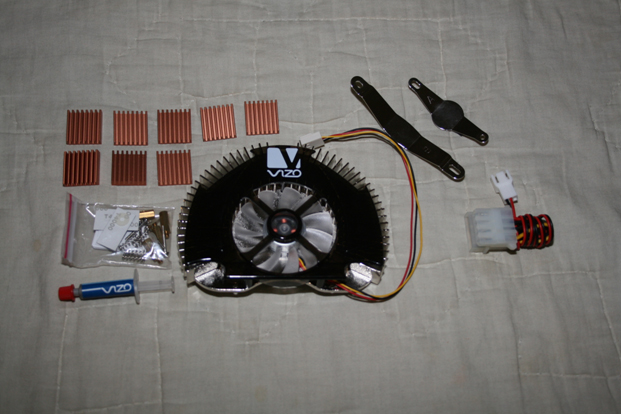 Since the installation is a large part of the review I'll cover that as well as cooling results.

The 7600 GS is passively cooled so it was an ideal candidate for this review. As you can see below, the passive cooler is fairly massive.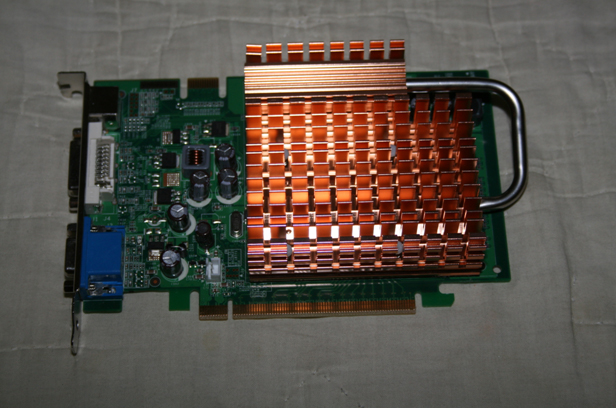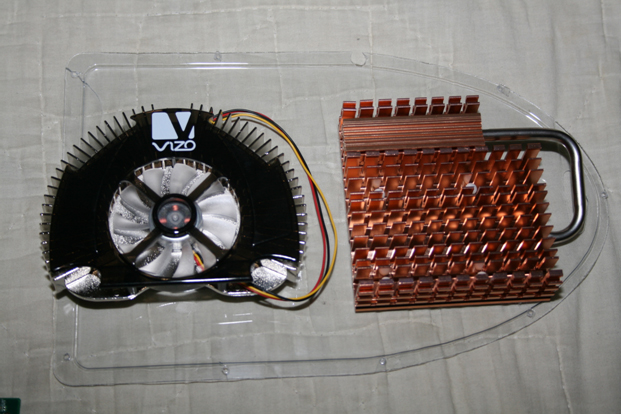 Installation is pretty straight forward as mentioned earlier. You'll have to follow a few sub steps based on your specific model of card, but overall, the installation took approximately 10 minutes. I recommend sticking on the chip coolers first as they might be a bit of a pain to get to once the VGA cooler is in place.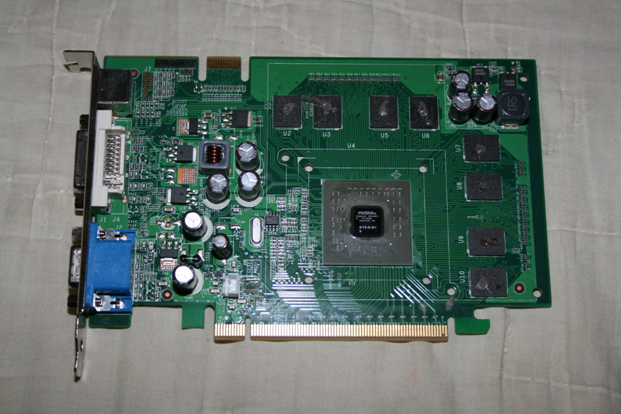 Now the first thing we wanted to do was to take a baseline temperature reading of the graphics card without the new cooler. We did what we viewed as standard usage to give a good range of temperatures. The first reading was done under normal usage, just browsing the web, and checking emails. The second was done while watching a DVD. The final test was done while gaming with Supreme Commander. If you'd like, feel free to check out how we conduct our test.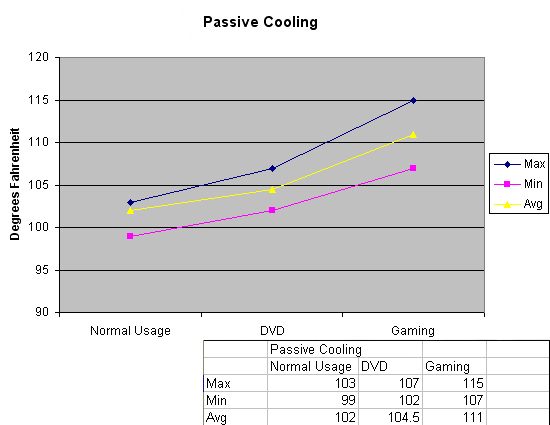 *click the image for higher res image

Once that was done, we took our temperature readings with the Sleet VGA Cooler under all the same conditions. As you can see, there is a clear improvement.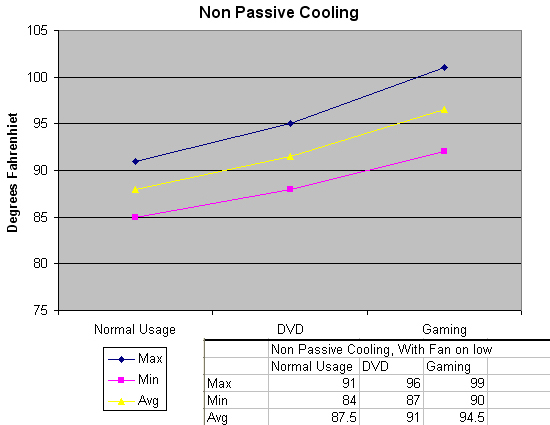 *click the image for higher res image

The average temperature of this cooler while putting it under the strain of gaming as you can see has shown an improvement of over 15 degrees Fahrenheit. This is a pretty large improvement and it really makes things clear just the kind of difference you'll be dealing with when you're deciding between passive and non-passive coolers. The Sleet VGA Cooler holds a clear advantage to anyone using passive cooling.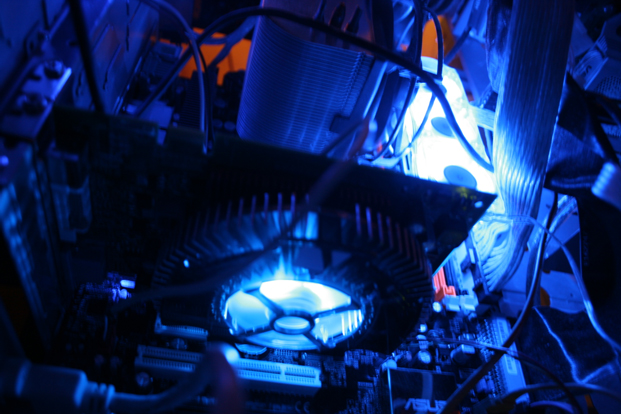 * I know, it's messy in there :(

I'd like to give Vizo a huge round of thanks for giving us the opportunity to review the Sleet VGA Cooler. If anyone, especially with a passive cooler is considering an upgrade this would be a great solution. Unfortunately we didn't have another higher end graphics card with non passive cooling to compare it to, but this is still a very large improvement no matter how you look at it. Based on the size of this cooler and the size of the majority of the stock coolers that I've seen I would definitely expect to see an improvement in cooling, even with other graphics cards that aren't passive cooling. So definitely check out the Sleet VGA Cooler, it is a strong performer.

This covered a ton of information so feel free to ask me any questions you might have :)



=======================================

Overall Rating: