Properller Slot Graphics Cooler


Author: faceless105 -- Posted: 2008-01-28
---
Today I have a really great review for all of you. Today I'll be reviewing the Propeller from Vizo. This is a slot loaded cooler with dual 70mm fans. This cooler is a great buy for anyone interested in high end gaming as well as simple prolonging the life of their hardware.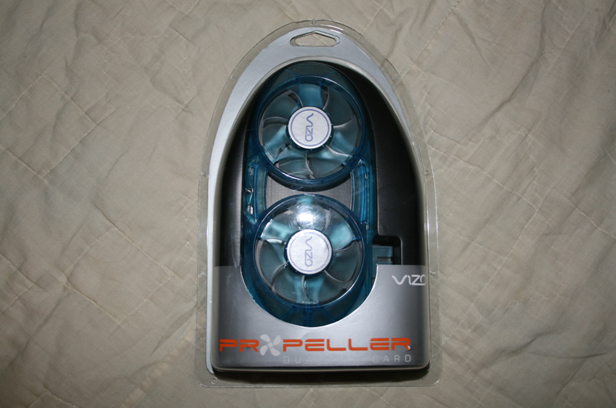 Now I'll start at the beginning, out of the box, the Propeller is very sturdy feeling; it feels like a quality product and doesn't feel cheap at all. The cooler is a transparent blue that lights up when powered on. Just out of the box the last feature you'll notice is a slide switch that adjusts the fans from high to low. There isn't a power switch, but that isn't a problem at all and I'll cover that further on in the review.




The installation is incredibly simple. The cooler will lock into the drive bay and support itself in an expansion slot. The clip that goes into the expansion slot is completely universal and will fit VGA/PCI/PCI-X/AGP/PCIE slots. From there, you have to connect the power, and conveniently enough the power connector has a pass through connection so you won't have to worry about losing any connections.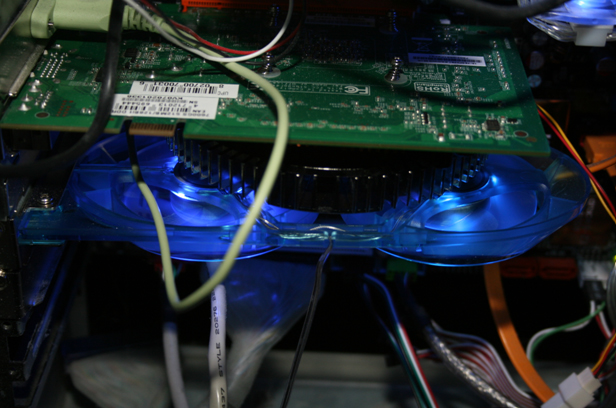 *I know, it's a mess in there :(

Now it's time for the stats. We're recently purchased a infrared gun to aid in our testing because we want to be able to bring you the best reviews possible. Our testing method involves moving the gun over the areas most likely to be generating heat and taking a max and min temperature. We also test different usage scenarios to try and simulate real usage.

Our test product today is the PCIE nVdia 7600 GS running dual monitors both at a 1280x1024 resolution. The first reading we're taking are to establish a baseline, and to be as accurate as possible we did a large amount of testing to reach as many audiences as possible. This graphics card comes with passive cooling, so that all it has is one massive heatsink.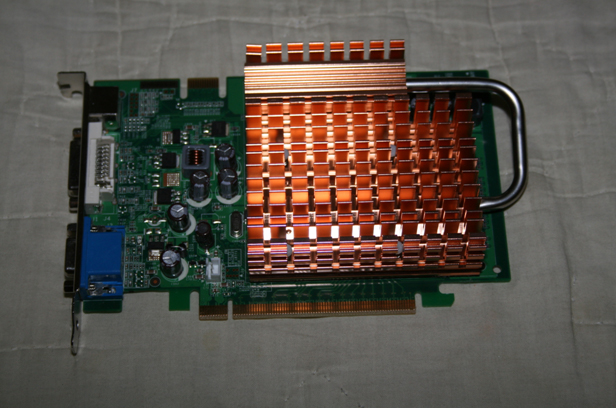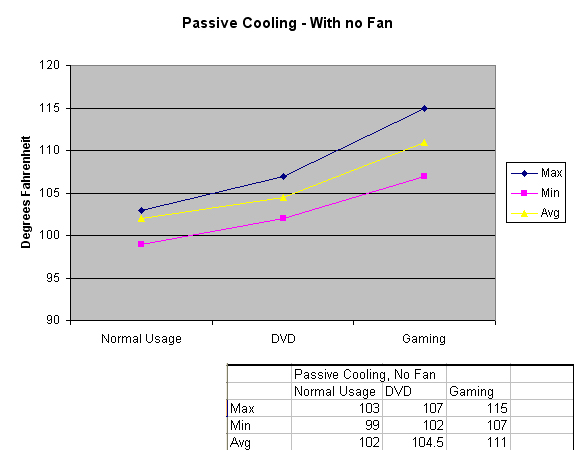 In addition we've recently reviewed the Vizo Sleet VGA Cooler so we'll give temperature results with both passive cooling and non-passive cooling. Below you can see the baseline temp chart with non passive cooling.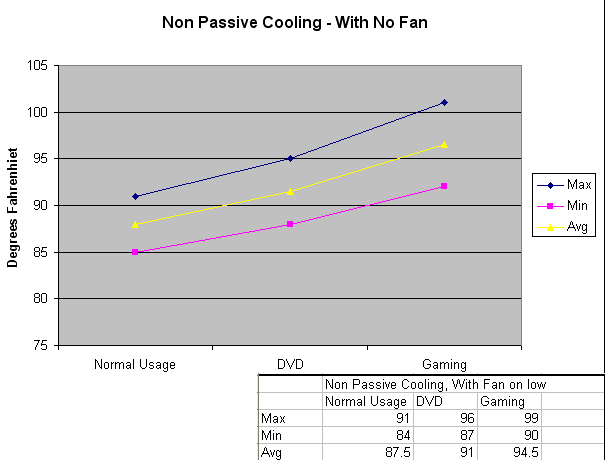 With the cooler set to low, we tested normal conditions of just using the computer for everyday activities, surfing the web and browsing email. After that we tested the cooler while watching a DVD. Finally we tested while gaming with Supreme Commander.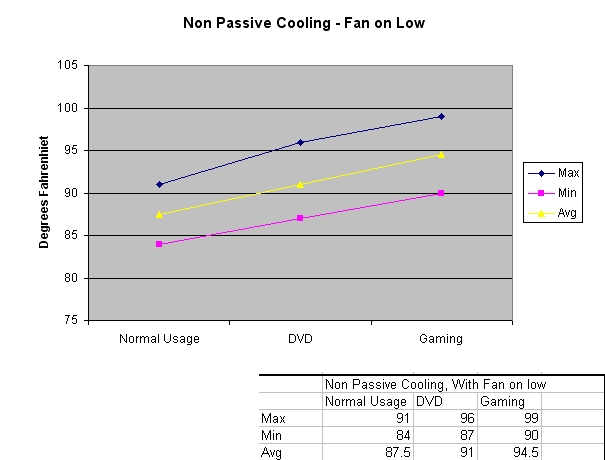 As you can see there are noticeable improvements.

To make things even better we ran these two tests again with the Propeller set to full power.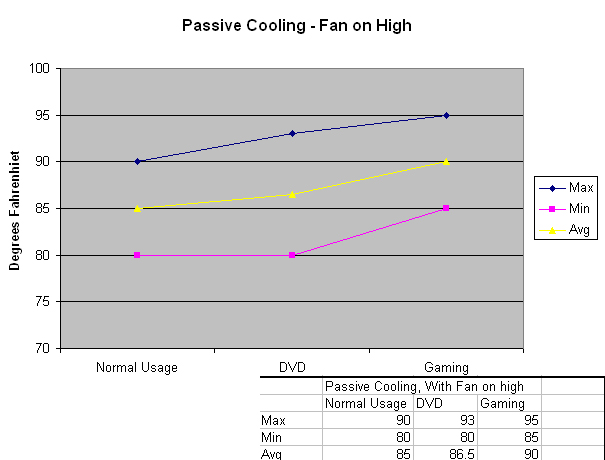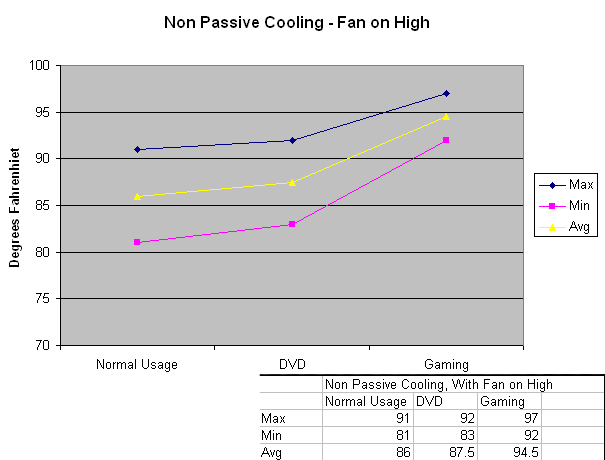 Again we see a clear improvement in cooling. In fact, if you add both coolers to your graphics card you'll be looking at a potential change of 20 degrees Fahrenheit, which is a great improvement. Now that we've covered the performance in regard to cooling power I really want to stress that this cooler wasn't audible at all, even at high power. It produces only 20 - 35 DBA, and due to its placement you shouldn't hear anything. In addition, the blue lights will really look great in any computer.

So with these clear improvements in performance we recommend this cooler to just about everyone out there. The install time is very quick and easy, and the performance you receive from it is well worth the time. The added cooling that it has to offer won't just help your graphics card live longer but it really can help the card perform better as well. I recommend anyone interested in cooling their system to check out the Propeller. I'd also like to give Vizo a huge round of thanks for giving us this opportunity to review the Propeller.

This review covered a ton of info so if anyone has any questions I'd be more then glad to answer them :)