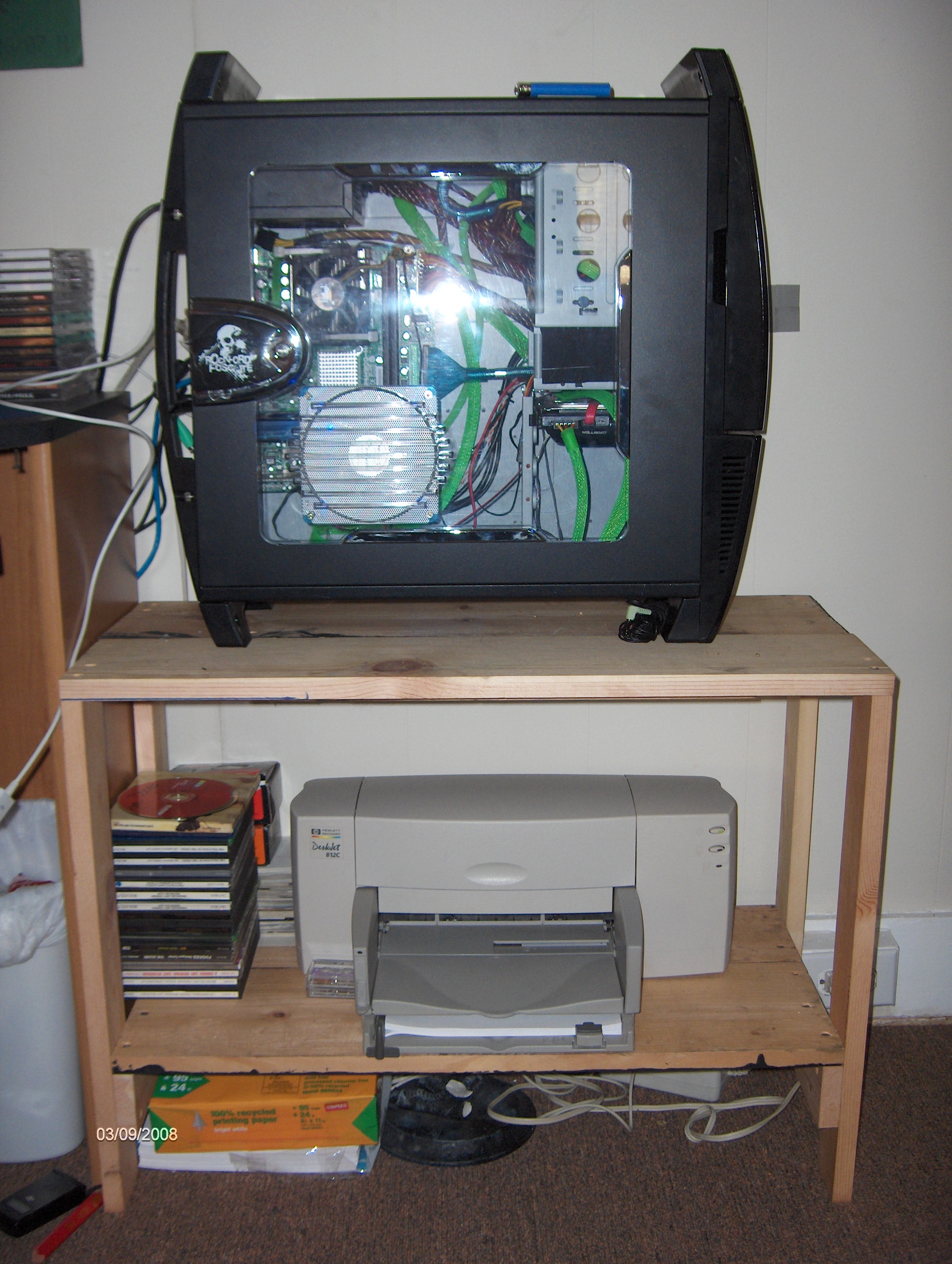 This is a Nzxt Lexa, with little to no modification done to the actually body of the beast.
inside are some mods fusion is familiar with. i had purchased three of the vizo hdd coolers and i spliced two of them together so they could simultaniously cool the same hdd. four years later, the thing is still kicking but and keeping my hdd about 6 degrees cooler. (i have it mounted to a wd black tb)
the wires for everything in there i have removed the molex heads and loomed the wires with a neon green wire looming, and i actually ported a spot interior the case to run some additionally thick wires against the back wall.
its funny how with all the building of pcs i do and how many pcs i could assemble out of parts alone, how inefficient the guts of this rig are.
biostar dvi(onboard) mobo (g47 i think)
3.2 dual core intel wolfsdale processor
4g corsair xms2 ram (literally the only ram i will install)
rosewill 500w psu
all sata hdd and dvd rw's
koutech i/o 5.25 panel
rosewill 6 bus fan controller
apevia iceberg fans with some of the original nzxt fans (which kick ass and are bright)
and a custom on switch from vandal
lmao at the age of this pic, i no longer use that antique printer lol, and i have two addition hdds installed. that is a 500g, i have an identical, and a tb.
this is pretty much it, excpet i now have three monitors, the one featured here (hyvision22" widescreen 720p) and two twin hp 2009f's (20"widescreen 1080p)
id take a more current shot but id have to clean up way too much shit lol
the vizo mod. i believe faceless went the distance on this and contacted vizo for me..... i still say they should add this product to their line.
underglow. in the auto world we experiance two type of customers those who tune the engine, and have a fast car, and those who put lights and body kits on and make it look like it goes fast. obviously, this is the latter.